Shopping Basket
Your Basket is Empty
There was an error with PayPal
Click here to try again
Thank you for your business!
You should receive an order confirmation from Paypal shortly.
Exit Shopping Basket
I just found this from May 2012...
So, we rolled up at the famous Eddie's Rock Club in Birmingham about an hour later than we planned due to traffic and other stuff, and were surprised that we could park outside the load in door... The main band had been delayed sowe had access immediately to set up and sound check. Colin (the owner) greeted us and we felt at home from the offset, what a lovely fella). it made us happier when Psycho recognised Rhys the sound engineer, so we knew the quality of the PA would be good.
The set up was fast as usual and the soundcheck went well. I had been nursing a bad throat all week and it meant that I was unable to hit some of the higher notes so decided to sing pretty much every song an octave lower, which feels weird and takes some concentrating I can tell you!
The other bands arrived (Surgyn and Modulate)... all nice fellas and very good at what they do. The green room was relaxed and food and drink arrived with Frank, so all was good).
We were on quite early (and I don't normally like playing a Friday night so early) and for the first song it was pretty empty. As the set progressed more people came in and big thanks to the lovely ladies who were dancing in front of the stage. We weren't however expecting the 25k sound rig!!! Man above, it was good, and was running at about 30% on the night. Lighting was fab and on stage sound was crisp.
We had a good response from the audience, who were very understanding about my bad throat and enjoyed themselves anyway. (I gave out come free albums at the end as a thank you). Psycho Pete was fab, as usual and filled in for the high vocal bits for me! All in all we had fun, and thank you to those who sought us out at the end and said some very nice things about the show. We appreciate you taking time out to say hello, it makes it all much more fun.
We managed to link up with another couple of bands who were there and they, surprisingly, were fans. A lot of chatting on the car park and it seems we might be working with them soon now. Also managed to get an agreement to start on a new gig project which will be a milestone for us in 2013. A mention for Surgyn and Modulate who were fantastic and entertained the crowd all night, and evenadded a metallic robot who dnced his way through the audience... great fun. All in all a good night.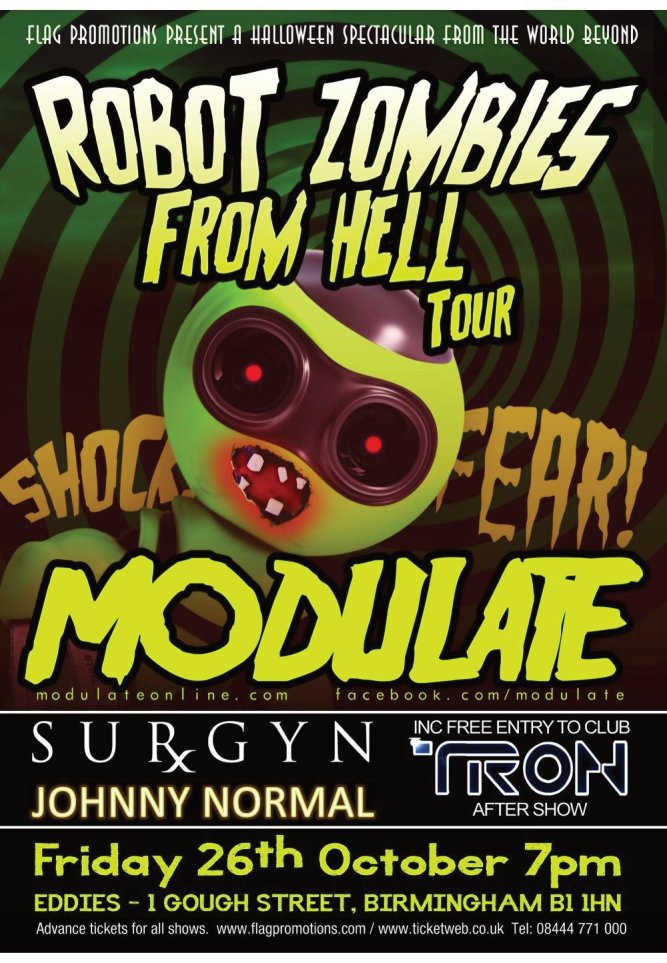 'JOHNNY NORMAL' will be opening the show for the mighty 'MODULATE' and the equally fab 'SURGYN' at Eddie's Birmingham on Friday 26th October. Doors open 7pm, Johnny Normal on stage at 7.30pm.
Johnny Normal's music has been selected to be included in a music archive by the British Library: The New Music Network. The long term goal of the New Music Network is to systematically collect and document significant new music, in all its forms, across the UK. This part of the project, managed by Radio To Go Ltd for the British Library, has been in development for well over two years. 
"Amazing new music has emerged online, as musicians have both taken control of their own production and distribution processes. This is a significant cultural development: valuable and inspiring. It is also fragile: extraordinary work can emerge one day, and disappear the next. We want to ensure that the best new music is kept for posterity, with the blessings of the people who created it.So how to do this? The first step was to rough out a solid way to identify new music. We went for a regional approach, as so much new music emerges from collaborative work in one area or another, and we picked the West Midlands as a particularly diverse starting point. This led to the selection of a team of advisors, all of whom work in or around the local music industry, some in specialised music areas. Our advisors selected up to 100 tracks each, and those tracks have been whittled down to the selection available on this site, and which will also go into the British Library's archive. We looked for significant new music from the region that has emerged over the past two years, that was not on a major record label, and that was available online."
/